EXCLUSIVE: Check out this video of the new Hellboy statue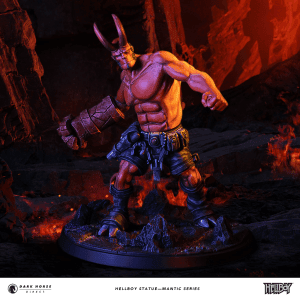 Dark Horse Comics has announced a new Hellboy statue based on the Mantic Games miniature, standing approximately 9 inches tall on a hellscape terrain base approximately 7.5 inches wide.
For those who don't remember, here's what we here at The Beat wrote about the game when it shattered its Kickstarter goal in less than 24 hours:
Hellboy: The Board Game is a one- to four-player game that follows the BPRD as they protect the world from Rasputin and a host of monsters. The original goal for the game included 99 unpainted miniatures – four heroes (Hellboy, Liz, Abe, and Johann), three bosses (Rasputin, a tentacle monster, and a giant frog monster), and dozens of assorted minions and monsters. That number has since expanded to 108 miniatures, including additional BPRD agents, an alternate version of Hellboy, and additional enemies with their own unique scenarios.
The advent of this statue is perhaps no surprise, given that when we last talked to Hellboy creator Mike Mignola, he said that while he had no plans to actually play the game, he was excited to get his "hands on all the cool little figures." Well, now at least one of those figures is not so little.
Oh, and also, The Beat just so happens to have an exclusive video of the piece, which you can check out below, after the additional info about the item:
Hellboy Statue, approximately 9" tall, 9" wide Statue base is approximately 7.5" in diameter
ADDITIONAL DETAILS AND DIMENSIONS Edition Size: 500 Expected to Ship: July – September 2020 Materials: Polyresin Sculptor: Mantic Games
Base Sculpt & Prototyping: Level 52 Studios
Painter: Ed Bradley   
Product Packaging Size: 11.5" H (292.1mm) x 11.5" W (292.1mm) x 10" D (254mm)* Product + Packaging Dimensional Weight: 12lbs.*
*Size and weight are approximate values and are subject to change. *Item shown is a prototype and final product may differ slightly in appearance.
The post EXCLUSIVE: Check out this video of the new Hellboy statue appeared first on The Beat.
Read more: feedproxy.google.com